Self-Awareness and how we Become Who we are – Realizing the Nature of Relationships and Exercising the Power of Choice to Self-Create
Posted On April 10, 2018 / Written by Dr. Linda Gadbois
We're all in the process of "becoming" in life through a constant interaction as an outer stimulus that causes an inner response of a like nature. From the time were born, we're subject to a constant form of outer stimulation from others, our environment, and the conditions of our life circumstances that begin shaping us as a person. An outer stimulation awakens in us the same type of qualities that we're being stimulated with, bringing them out in us where we form an interaction based on the shared qualities. As we embody the same type of qualities as the person we're interacting with, we establish a relationship with them that expresses the shared qualities as a dynamic and we create an "experience" of ourselves by way of that dynamic. As we create an experience of something through our relationship with it, we simultaneously "sense ourselves" within that experience as a certain kind of person playing a certain type of role, and we become identified with our experiences as a result.
Through this natural and fundamental process of cause and effect, we are initially developed through an unconscious state of our formative conditioning to be like the people we live in relationship with and the dynamics we play an active part in. We are all subject to the family dynamics we play a role in as the initial means of developing our personality and identity. By the time we're in our mid to late 20's, our personality and identity are firmly established and we begin the process of simply living out of and repeating the same patterns, behavioral dynamics, and type of relationships through a natural unconscious state the rest of our lives. This is what's often referred to as the "first birth", which sets the basis for transformation as being "reborn" through our "second birth" which is undertaken with full awareness of what's happening and why.
It's by becoming aware of the natural process of self-development that we can begin working with it consciously to create ourselves in a deliberate and intentional way. We're all born into this world with a Higher Conscious, subconscious and self-conscious mind and the capacity to become self-determined by exercising our ability to self-realize, discriminate, reason, and choose how we're going to respond, and then willfully act out that decision while resisting habitual tendencies that come naturally to us as automatic responses. This powerful ability to self-create starts with awareness of the laws operating in an situation as the means of creating, becoming aware of what's happening inside of you at any given moment based on how you're being stimulated, and the type of person you become through your immediate and natural reactions as a result. All of life results from a dynamic series of relationships and how they all work together in a synchronistic and accumulative fashion to create a stable and consistent idea.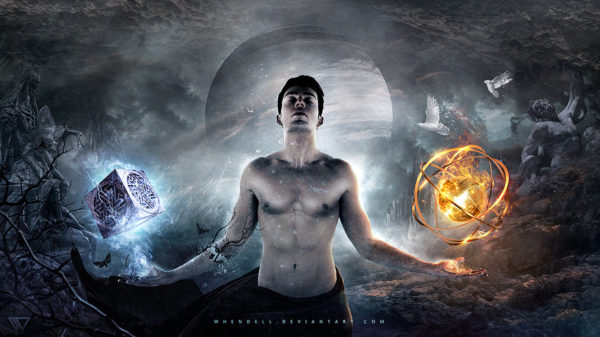 The most fundamental laws that are always operating between the inner and outer world, between the masculine and feminine energies, and between us and others, are the Law of Cause and Effect and the Law of Vibration. The Law of Cause and Effect demonstrates that all actions produce and equal or greater reaction of the same nature. This is very easy to realize through self-observation by noticing that whatever emotion is being outwardly expressed by another acts to stimulate you with that same emotion. It serves to alter your "state" to match theirs and brings out in you the same emotional qualities where you become the "same as" or "just like" the person stimulating you. You then form an immediate reaction by either becoming congruent with them or by taking on the complementary aspect of the same idea and opposing them.
Anger for example, when being actively projected towards you will cause you to either become just as angry and aggressive or more, or it'll cause you to feel scared, and back down or feel overwhelmed. If you become just as angry, it escalates and intensifies, if you back down and become subordinate, it diffuses and neutralizes it. Whatever your reaction you become "that type of person" through the experience of yourself it creates. Whatever the nature of the energy being openly expressed by another within near proximity of you, acts to enter into and transform you to that same state. Likewise, if we're the one who is actively expressing an emotion we serve to transform everyone around us who's in a different state to that same emotion. The active component in one always acts to awaken and seed its passive, latent component in another bringing it into an active state.
The Law of Vibration works in precisely the same way through sympathetic resonance, where one vibration as an emotional mental state, vibrates that same state in another through sympathetic induction where it's literally projected outward by one person towards another person as a form of energetic transmission, where it literally enters into their body, vibrating that same state in them, amplifying and multiplying it, where they then form coherence and begin vibrating in harmony with each other as a "shared state". Once the shared state is achieved they co-create a congruent experience together as a joint reality. The Law of Vibration always works through the complementary Law of Correspondences and Analogies where "like always begets more of what's like itself" as a form of propagation.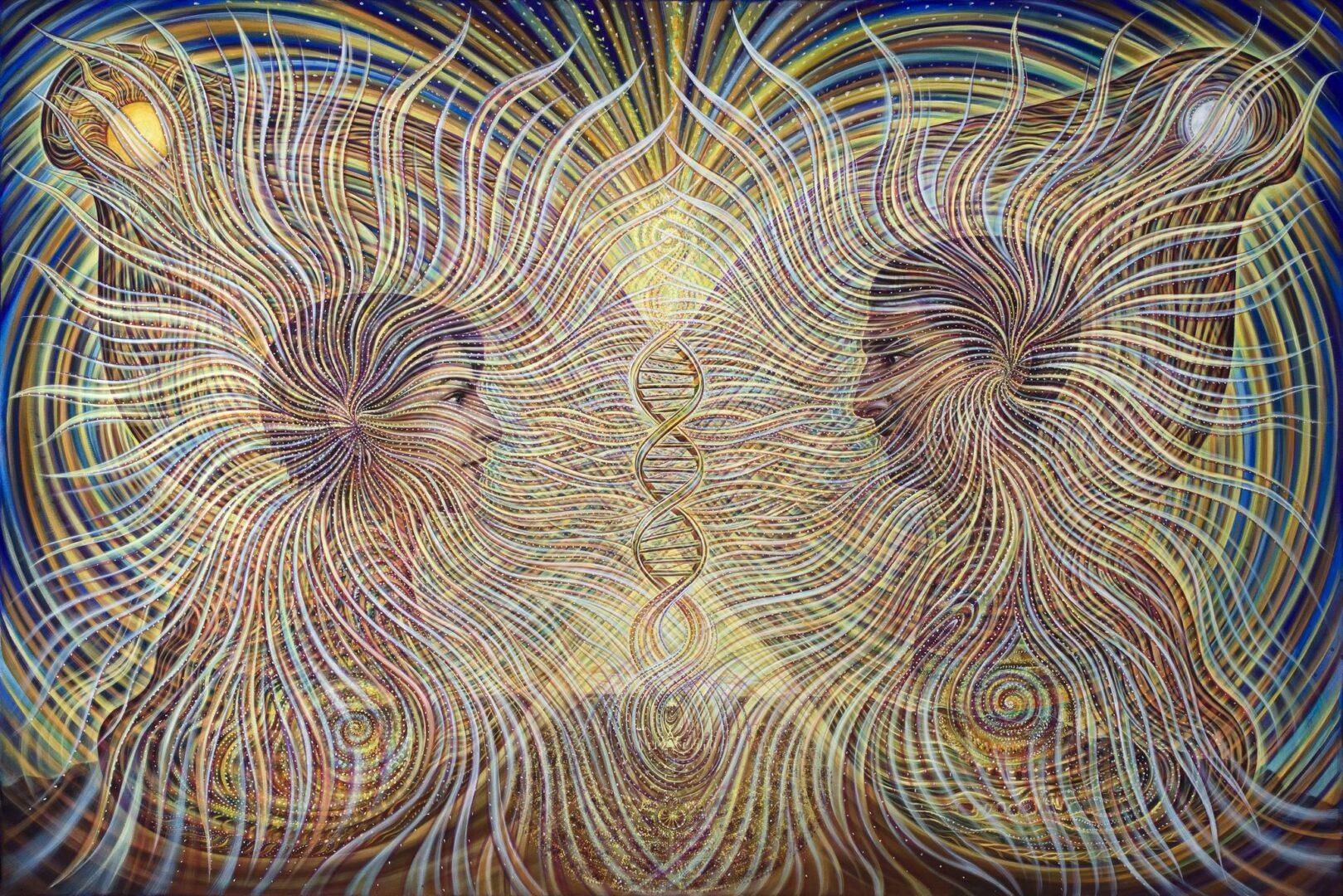 In this very sense of what operates as an energetic interaction, we are constantly being influenced by everyone around us to be like them. To take on the same emotional state, attitude, type of thoughts, and behaviors as they openly demonstrate and outwardly express through their very being. We also act on others in exactly the same way to influence them to be more like us. Vibration as a certain type and kind of energy always acts to generate more of what's of the same nature as it is, just as we're only capable of creating as an expression of our mental state as a form of offspring. All of life and our self is the result of how we enter into relationship with everyone and everything else. In every moment we're being stimulated somehow, and either unconsciously reacting or consciously deciding who and how we're going to become in relationship with it. This takes place unconsciously or without our direct awareness of what's happening as a natural reaction, or consciously through self-awareness as a clear and calculated decision that's not based on how we're being stimulated, but rather on our ability to resist it, not let it enter into us and affect us, and from an independent response based on who we decide to be instead.
The first step of transformation becomes the awareness of what's actually happening, and the second step as the ability to prevent the emotional stimulus from entering into our being and body, and neutralizing it instead. We can keep other people's emotions and projections from affecting us through the simple awareness of them and by resisting the tendency to react in a like manner. By controlling our own reaction, we counteract, neutralize, and deflect their energy. We bring it into a balanced state rather than an unbalanced state by serving to amplify and increase it.  Once we acquire the ability to prevent other people's energy from entering into and affecting us, we exist in a form of inner calm where we realize that we actually have a choice as to how we're going to respond or if we're going to respond. In some cases we may choose to simply withdraw all of our life-giving energy that only acts to empower it and simply ignore it. Whatever we react to we give life in us and through us, and whatever we ignore and withdraw our attention from, dies to us. We don't let it become a part of us and determine us as a result.
In this spacious moment of inner calm produced by deflection and no reaction, we can ask ourselves . . . who do I want to be right now? What kind of person do I choose to be in relationship to this person or event? Am I going to allow this person to control me and determine who I am as a result? Do I like how this person is being and do I want to become like them? We can self-reflect in the moment and make a conscious decision as to how we're going to respond in a thoughtful and intentional manner. And through our controlled and deliberate response based on a calculated decision, we can become self-determined and the master of our own fate.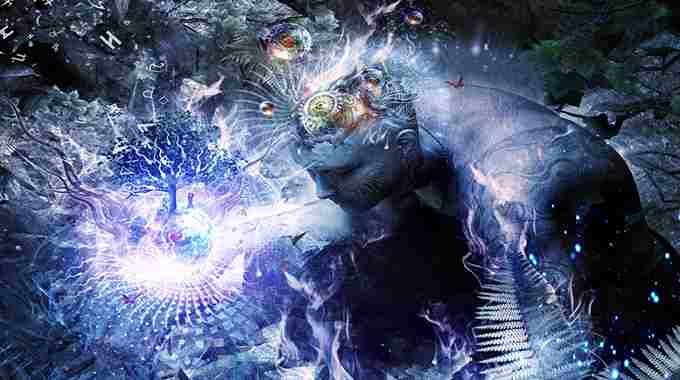 Whenever we maintain a calm and undisturbed state in the presence of active emotional expression, we act to neutralize it, and ultimately calm them down by influencing them to match our state. In every interaction as a transmission and reception of energy there's always a dominant (active and projective) and subordinate (passive and receptive) aspect. Anytime we allow another person's energy to enter into us and produce an effect, we are the passive receptor in the equation. One person is always the one producing an equal effect in the other, especially when both people are unconscious as to what's really going on and acting "naturally" by reacting in a like manner to whatever they're being stimulated with. Whenever we act to "give somebody back their own medicine" or what "they deserve", we're actually allowing them to control us and we have to become "just like them" in order to do it. This means that they act "on us" to transform us to be the same type of person as they are.
Whoever is fully conscious and self-aware in the situation and not actively taking on the other persons energy, exercises the ability to dominate and manage the state of the other by bringing their emotions into a neutral state and then intentionally employing emotions as the means of expressing that influences them to match your emotions. The most fundamental form of self-mastery and conscious creation comes by neutralizing yourself to other people's emotions and attitudes while simultaneously learning how to employ and direct them to create your experiences, or joint experiences, in a deliberate way by skillfully managing the state of others and eliciting a state of cooperation and participation. The only true power in the ultimate sense is being able to control and utilize your own will and the will of others to participate in creating the same type of reality.
This same creative process as the operation of fundamental laws is also how we create ourselves in an intentional manner by associating with people who openly display the qualities and attitudes we want to acquire and develop in ourselves. By only being willing to enter into and maintain relationships with those we admire, respect, adore, honor, and revere, then allowing them to naturally influence us by bringing out those same qualities in us in a natural and unguarded way.  We work by way of natural laws by consciously choosing relationships with others who serve to stimulate positive emotions that bring out the best in us and the parts of ourselves we want to actively develop. Allow yourself to always notice what "part of yourself" shows up in your different relationships and "who you become" in that relationship as a result. Then simply ask yourself . . . "do I like who I become"? Is this how a want to be? Cultivate and nurture only those relationships that bring out the best in you, where you really like who you are because of them.
Spiritual Mentor and Personal Transformation Consultant