The Art of Becoming – "Developing Your Style"
Posted On January 3, 2015 / Written by Dr. Linda Gadbois
There are two basic ways we "become", either unconsciously by default as a product of our formative conditioning, or with awareness of who we want to be and by choice and free will. In order to "become" intentionally, we have to first realize what we have an affinity for, a pervading interest in, or a kind of curiosity around, then study it to find the qualities, characteristics and behaviors that will express that way of being. We have to create an ideal for ourselves that serves as a creative vision. A creative vision that has distinct qualities and characteristics as it's fundamental nature or natural make-up. Then we embody those same qualities in ourselves, and practice being like that. We embody the same characteristics as ways of being and behaving as our ideal or chosen model. We create and reshape our persona by taking on qualities, employing certain postures, gestures, facial expressions, language patterns, etc.
In the adult world this is typically called modeling, in the education and spiritual realms it's called mentoring, and when we were kids we called it pretending and make-believe. These are all basically describing the same process. This creative process best described as "pretending", is the most natural way for consciously engaging in the act of self-creating by developing ourselves in a specific way based on who we want to be like, and what roles and type of characters we relate to and gravitate towards as a result. This tendency is what reveals our true inner nature, what we resonate with in terms of strongly relating to, what feelings we are attracted to, what we love and have a preference for, or what kind of person we most readily see ourselves as being that feels empowering.
We don't develop ourselves through roles or abstract objective ideas. We develop ourselves through themes as attributes and qualities that when embodied and brought into expression by acting them out, give us a sense of ourselves that serves to develop our character. Our character as "how" we are, and what "kind" of person we are creates a predisposition that is ideal for certain roles and activities that provide the ideal means for further shaping our identity as conformity. As we create certain types of experiences, we sense ourselves in new ways which reshapes our identity by way of those experiences, and begin forming a consistent idea about ourselves that becomes our self-image or self-perception.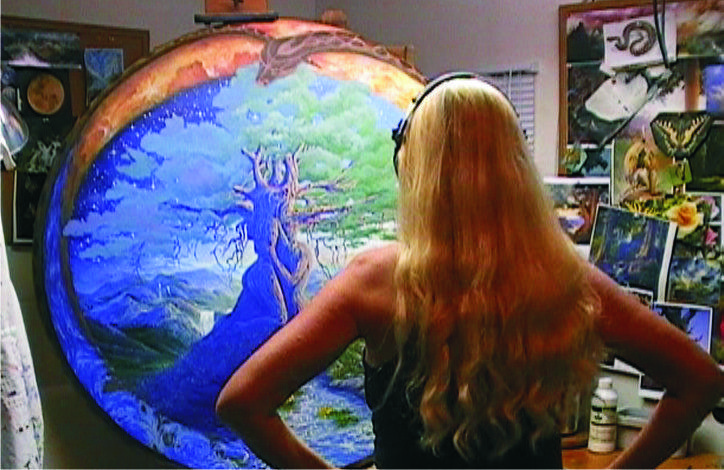 Example: As a young artist growing up with no cultural background, I was told that I couldn't copy pictures, other people's work or even other people's style. No body provided me with any tutoring. I felt a complete lack of direction and had to develop my abilities within very limiting means and figure things out for myself. Learning was a tedious process of trial and error.
As soon as I went to college for art, the first thing I was told to do, was to start collecting and categorizing as many pictures as I could for visual resources, find another artist who's work I felt extremely inspired by and compelled towards, and then research that artist, study their work . . . . and when I painted to try and paint just like them. This was a complete contradiction to what I had been taught up to this point.
So I did everything I was instructed to, and what I found was that for the first time I had a model or mentor to practice "being like" and as I tried to paint just like him, my own style began immediately emerging. It wasn't exactly like the artist I studied under, though it was similar. I was then told that the reason I was attracted to that artist and their style for painting was because it was the same type of style that was inherent within me. By practicing being like him, it developed and brought out those same qualities and abilities in me. This was the first time I truly understood the power of mentoring and practicing the very style, traits and abilities that I wanted to develop in my self.
Dr. Linda Gadbois
Artist, Spiritual Teacher and Mentor